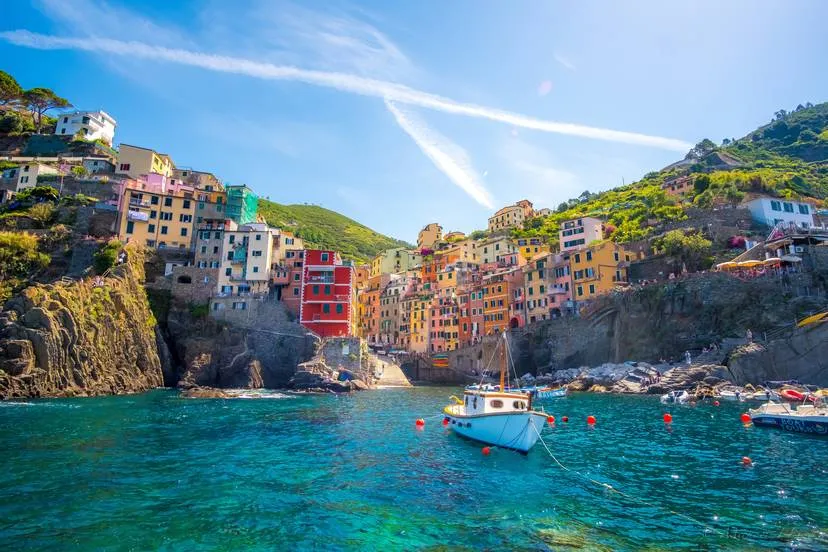 Riomaggiore, Italy | Michael Liao/Unsplash
Editor's note: Compared to last year, international travel has opened up in spadesbut the ongoing Covid-19 pandemic continues to fluctuate rapidly and impact communities all over the world. When youre ready to venture abroad, triple-check the opening status, entry requirements, and safety protocols of your destination. If youre staying stateside for now, use this list as inspiration and keep daydreaming about your next adventure.
Much like the word wanderlust, travel bucket listscan feel a bit tacky. But after a year of mortal dread and existential crises, who among us gives a single damn about being corny? Lifes too short to be cool all the time, and if you want to openly daydream about falling in love in Paris, seeing the pyramids, or catching the Northern Lights, you should.
With so many countries welcoming back touristsincluding dream trip mainstays like the natural paradise that is Iceland and the coastal old towns of Croatiatheres hardly been a better time to sit down with apen and apiece of paper and manifest your next (or first!) great adventure. Whats more, this moment in time isnt just special thanks to our renewed enthusiasm for really living: it also presents a rare (dare we say unprecedented?) chance to see popular attractions and major cities with few-to-no crowds.
As a note, not every place on this list has reopened to visitors, and the lingering rona situation in some may still be precarious, so youll want to check the status of your destination and plan accordingly long before you embark. Still, whether your trip is set for next month or the next several years, here are 50 travel bucket list items to inspire you.
Take your time in Italy
Breathe in the smelly canals of Venice and see a World Wonder in Rome. Eat Parma ham in Parmaand forget what year it is on the island of Sicily. Feel your jaw go slack on theAmalfi Coastand wander into tiny villages less-visited. Hike, eat, drink, repeat in the Italian Alps, and savor that sticky sweet limoncello to the end. Keller Powell
Island-hop the Caribbean
Few places on Earth are true paradises. The Caribbeanwith its cerulean seas warm as bathwater, glistening shores, and effervescing peoplemakes the cut. The British Virgin Islands are the sailing capitals of the world, while St. Vincent and the Grenadines have the best snorkeling sites. Hike the Pitons in St. Lucia, chase waterfalls in Dominica, or redefine the meaning of turquoise in Turks & Caicos.Can't decide? Here's a guide to every island. Michelle Ray Uy
Eat a life-changing meal from a food cart
Some of the best food in the world comes not with Michelin stars, or table service, or even tables for that matter. Whether were talking tacos in Mexico City, Banh Xeo in Hanoi, doner kebab in Istanbul, Hainanese chicken rice in Singapore, or fricassee in Tunis, the most satisfying meals will be handed over on street corners or hidden down narrow alleys. In my experience, the more grandmotherly the chef, the tastier the food. Nick Hilden
Discover where your family comes from
Thesearch for heritage can be powerful stuff. Prepare for overwhelming visceral pangs, whether youre wandering the village your family was named after or savoring a dish your grandma used to rave about. Second-generation citizens, youll see your immigrant parents anew once you understand where they (and all their annoying/endearing quirks) come from. Even if you have to go back much further, steel yourself for echoes you didnt even know were there to hear.Barbara Woolsey
Sail New Zealands spectacular islands
Underrated among New Zealands abundance of rad nature is the magnificent Bay of Islands: 144 subtropical islands and miles of undeveloped coast offthe North Island. Start in Paihia and charter a boat for some inter-island dolphin spotting, or take a sail in a historic Tall Ship. Once you find a private cove, drop anchor for some afternoon snorkeling and a BBQ lunch on deck. Here are eight more NZ islands that can't be missed. Julie McNamara
Move your soul in Seoul. Go big in Beirutand Berlin. Rock out in Riodouble points if its during Carnival. The partys what you make it wherever you go, but in the towns around the world where the beat never stops, legends are made nightly. You may create one, or become one. Sam Eifling
Eat and drink your heart out in French wine country
You havent really lived until youve eaten époisses. This pungent, unpasteurized cheese is banned in the US, a delicacy produced only in the Burgundy wine region.The best way to see Burgundy? Embark on a road trip starting in Dijon, about a 1.5-hour train ride from Paris, hitting boulangeries, butcheries, and vineyards like a baguette-wielding boss. Collecting heavenly cheeses, terrines, and pastries along the way, your backseat will inevitably begin to smell like old socks, but thats all part of it. Barbara Woolsey
Take a road trip along Iceland's Ring Road
Many visitors to Iceland stick to the Golden Circle. But continue further east beyond Vík's black sand beaches, and you'll seethe true spirit of Iceland is found along Ring Road, the highway that wraps around the country. Youll find tiny, colorful villages nestled amongst mossy mountains; deep blue glacier fields at Jökulsárlón; Sólheimasandur (that plane crash), Dettifoss (Europes second-most powerful waterfall), and the unusual Arctic Henge arches; and Akureyri, the "Capital of North Iceland," which sits at the base of a fjord (and where the stoplights are shaped like hearts!). Tiana Attride
See the Northern Lights
The physical principles are similar to neon lightsbut its the frickin sun pelting the earths magnetic field. People who live in far northern climes never, ever get sick of them. Mad bonus points if you can also see the harder-to-reach Southern Lights. Sam Eifling
Drink Scotch in the Scottish Highlands
This land of unspoiled, staggering beauty is also the world capital of whisky. If youre not a single malt enthusiast yet, you surely will be after exploring the centuries-old distilleries dotting the countrys most remote regions. On your way through the Highlands, set your GPS for The GlenDronach, specializing in a fruity, full-bodied scotch aged in ex-sherry butts. Drive the North Coast 500, a dramatic 516-mile loop that begins and ends at Inverness Castle. Finally, set sail (or prop plane) for the windswept Hebrides. On the island of Islay, names like Bowmore and Lagavulin arent merely labels on a bottle, theyre actual villages you wont soon forget. Brad Japhe
Go to a music festival in another country
Build a trip around music. Even if its for the artists you know and love, youre guaranteed to catch some regional acts in between. Big tent festivals like Osheaga (Montreal), Bilbao BBK (Bilbao), and Øya (Oslo) feature big names and great food, but dont sleep on smaller fests like Iceland Airwaves (Reykjavík), Le Guess Who? (Utrecht, Netherlands), or Tallinn Music Week (Tallinn, Estonia). With artist interviews, acoustic sets, art exhibitions, and even the occasional tasting menu, youll leave with much more than a playlist. Laura Studarus
Straddling the coastal border of France and Spain is a land of impossibly fresh seafood, gorgeous mountains and seaside towns, and pintxos (cue record scratch if you call them tapas). In spots like San Sebastian, Bilbao, and Pamplona, a night of bar-hopping might consist of a half dozen bars for a pintxo and a drink (often in 1:1 ratios) before finally descending upon a full dinner at midnight. Wash them down with a glass of Txakoli, a low-alcohol sparkling white wine that bartenders pour from almost comical heights. Kylie Maxcy
Sample the streets of India
Hit the streets for juicy, bright yellow mangoes and tender coconuts waiting to be sliced open. In Mumbai, start with the chaat, a collection of snacks that marries the crunchy and soft textures of puffed rice and crackers with the sweet, tart flavors of chutneys. Try the pani puri, in which thin, crispy balls of bread are hollowed out and filled with potatoes, sprouted mung beans, onion, and chickpeas before getting dunked into water infused with mint and cilantro. Then theres the pav bhaji, a spiced mixed vegetable concoction, slathered with butter and drizzled with lemon juice, that youve got to grab with the toasted buns served on the side. Wash it all down with a glass of hot masala chai or freshly squeezed sugarcane juice. Nik Sharma
See the Taj Mahal at sunrise
The Eiffel Tower gets a lot of street cred for being the most romantic destination on Earth, but wed argue that the Taj Mahal easily one-ups it. Mughal emperor Shah Jahan commissioned the architectural stunner to be the final resting place of his favorite wife (and the emperors tomb itself is also found here). Catch the historic, wonderfully symmetrical masterpiece first thing in the morning for the bestnot to mention, least-crowdedview. Tiana Attride
Take a legendary road trip to the bottom of the world
Taking on Argentinas Route 40 means tackling 3,227 miles of highway, which come with just as many epic sights. Along the way, youll spot some of Earths clearest waters in ​​the Siete Lagos region, traverse the deserts, waterfalls, and mountains of Patagonia, and relish in Argentinian wines, comfort foods, and night skies. By the end, youll be cooling off in Los Glaciares National Park, where ice drops in enormous sheets from god-sized glaciers, or getting in touch with the ancient past at Cueva de los Manos, a UNESCO World Heritage site with 9,300-year-old cave paintings. Cathy Brown
Plan a trip for the books inspired by books
Visit the home of your favorite author and see the sites that inspired them. Perhaps head to the walled, seaside city of Saint-Malo, France, where the blind protagonist of All the Light We Cannot See hides out during World War II. Take the Girl With the Dragon Tattoo walking tour in Stockholm. Create an odyssey of your own in James Baldwins southern France, the Bronte Sisters England, Murakami's Japan, Hemingways Basque Country, or Gabriel Garcia Marquez's Colombia. Lorenzo Ferrigno
Sleep on a watchtower of the Great Wall of China
A trip to China would be incomplete without a visit to the Great Wall, but to take it to the next level, camp overnight on one of its watchtowers. A handful of guide operators lead groups to the Wall at sunset, where you can legally and safely spend the night in a sleeping bag, catch a gorgeous, life-affirming sunrise, then set out on a three-hour hike. Added bonus:there willhardly be any tourists. Lorenzo Ferrigno
Walk the Charles Bridge at dawn
Pass the night in one of Pragues many dance clubs or cavernous underground bars, or watch the city glisten from above on Petrin Hill. Head to the river as the sky lightens, the still-glowing spires of Prague Castle in the distance, and take your turn across the centuries-old Charles Bridge. The tourists and vendors and caricaturists wont be out yet; its just you under the stony gaze of 30-some-odd saints. Part of Pragues spell is how it imbues you with a sense of your own impermanence as you briefly touch down in its staggering history, a feeling made all the more poignant and freeing as the sun comes up. Keller Powell
Summit the worlds tallest building: the Burj Khalifa
At 2,722 feet high, Dubais Burj Khalifa is the worlds tallest building (for now, at least). Ascend to one of the observation decks on floors 124, 125, and 148, or book a table at Atmosphere on floor 122. While youre at it, why not check the worlds largest shopping mall and indoor theme park off your list. But Dubai is so much than just futuristic architectural feats; dont miss Old Dubai, where youll explore historic neighborhoods and mosques, shop in souks, and chow down on traditional (and, surprise! affordable) eats. Check out our full Dubai itinerary here. Emily Zemler
See a lost ancient city
You know the names: Machu Picchu, Pompeii, Angkor Wat, Easter Island, Petra. To travel to these sites is to visit not only a faraway place, but a distant time and civilization. The nearest at hand for you are likely in southern Mexico, where some of the most important centers of Mayan civilization were lost to the hot, steamy jungles before being rediscovered and preserved for visitors. The most impressive include Palenque, in Chiapas, and Calakmul, in Campeche, where you can wander the sprawling stone remains of cities that peaked in the 700s. Meagan Drillinger
Make five new friends in an Irish pub
You'd have to be in a literal coma to spend an hour in an Irish pub without making a half-dozen new pals, two of whom are probably destined to appear in your wedding. Knock back a few pintsand you'll get swept up in the playful camaraderie that emanates from Dublin's local pubs; after a night ofsinging songs and sharing stories, tell your new drinking buddies that "the craic was 90, then ask them what it means.Jess Novak
Embark on a Greek adventure of mythic proportions
Take a page from Homers Odyssey and become the hero of your own Greek escapade. Athens, the birthplace of democracy, is the natural outset for such an adventure, but theres also the mountainous Peloponnese, where Hercules and the gods got rowdy, or the 227 Greek islands, each differing dramatically in landscape and culture. Despite the ancient provenance, theres an aura of modern-day magic across Greeces legendary islands, and an anything goes attitude that keeps the tavernas bumping long into the night. Barbara Woolsey
Throw down with Canadians
Dont think of Canada as empty and cold. Thats wintertime stuff, and youre better off starting with summer festivals. Big, urbane Toronto, which now boasts maybe thebest cannabis scene in North America, celebrates one of the worlds largest Caribbean festivals. Far to the north, Edmonton rocks one of the great fringe festivals anywhere. And Quebec City throws the continents most raucous urban music festival each summer with its Festival d'été de Québec, sort of a Lollapalooza that takes over a Downtown built amid old battlefields and fortress walls. Sam Eifling
Go off the grid to explore one of the wildest regions of the world
See planet earth, Planet Earth-style. Bike through Patagonia. Cruise the Amazon River. See giant-ass iguanas in the Galápagos, hug a baby sloth in Costa Rica, look for antelope on the Serengeti. Whatever wilderness tugs at your imagination, make a point to go, because it sure aint coming to you except on BBC America. Sam Eifling
Haggle your ass off
We Westerners are soft. Soft because weve been led to believe that prices for goods and services are locked into whatever the sticker says. Elsewhere, you negotiate, dammit. Unspoken in most street markets is that you never pay full price. Whether for jewelry in Mexico City, a carpet in Marrakech, or a chess set in Istanbul, heres how its done. Stephanie Lee
Drink beers the size of your head in Munich
München is sacred turf for lovers of ales and lagers. Extra points if you pull this feat during Oktoberfest when, over the course of 16 days, a congregation dressed in dirndls and lederhosen pay homage to the beer gods, belting out age-old brewing hymns and tossing back liters as if they were drams. Dan Cole
Speed down the German Autobahn
The German answer to our Interstate system features 12,000 miles of federally controlled highway, two-thirds of which has no speed limit. Ease your BMW rental into fifth gear and rocket past some of Germanys most scenic stretchesallegedly, anyway, cause how would you know? Youre going 130mph!with the air spooling your hair into a cyclone, the countryside a blur, your heart a jackhammer, your palms gushing sweat, as a townie grandma late for church calmly passes you in the left lane. Julie McNamara
Visit the Old Silk Road
A crossroad between East and West, ancient and modern, very old and very new, the Silk Road was once the overland route connecting trade in central China with India, the Middle East, and Europe. Today its the gateway to the deep-cut destinations of Central Asia including Mongolia, Azerbaijan, and Afghanistan. One incredible starting point is Kyrgyzstan, a mountainous country of exquisite natural beauty that will push you outside your comfort zone in the most rewarding ways. Tanner Saunders
Have the locals teach you their toast
You may not speak Japanese or Gaelic, but alcohol is a universal language. Walk to a bar, order a drink, walk up to the friendliest looking group in the bar, hold up your drink, your chin, and smile... theyll know what to do next. Skål! Salud! Na zdraví! Zdrowia! Proost! Tanner Saunders
Get a load of St. Petersburg's grand buildings
Russia's cultural capital is a fantasia of over-the-top architecture, recalling bygone eras of royal opulence and revolution. Get ready for the largest, most magnificent buildings youve ever seen, like the candy-colored Church of the Savior on Spilled Blood, the rococo woah of Catherine Palace, Smolny Cathedral channeling Disney, and huge art galleries like the monstrous yellow Russian Museum. The worlds second-largest museum, the State Hermitage housed in the emperors Winter Palace, is essentially the fanciest museum ever with expensive chandeliers, intricate stucco, marble floors and an enormous collection sprawling across 360 rooms. Mind the velvet ropes! Barbara Woolsey
See the Great Pyramids of Egypt
Enshrined in history and popular culture (never forget the opening scene of Despicable Me), the Egyptian Pyramids have been standing resolutely for thousands of years. The stark contrast of the Pyramids looming over the bustling megalopolis of Cairo is a sight in and of itself, but pales in comparison to standing up close and personal to one of the worlds most famous and mysterious landmarks. Before you go, check out our guide to visiting Cairo. Tanner Saunders
Take a dip in bioluminescent waters
The phrase you have to see it to believe it might very well have originated from someone swimming amid bioluminescent critters. Imagine floating in a pitch-black bay where your every movement triggers little shimmers in the water around you. This glow is caused by dinoflagellates, a plankton that lights up when agitated. It sounds like traumatizing sci-fi until you experience these miniature lightning bugs of the sea. You can catch this quiet thrill in the likes of Mosquito Bay in Puerto Rico, Toyama Bay in Japan, the Blue Grotto in Malta, and the Maldives. Alicia Lu

Japanese Ramen | Cole Saladino/Thrillist
Slurpreeeeeally slurrrrrrpramen in Japan
The Japanese know the secret to enjoying good ramen is eating loudly, proudly. They encourage you to slurp those noodles and that savory broth as audibly as your umami-filled heart desires. Ravish that bowl. Inhale it. The chef wants to hear you over the din of the kitchen. And strangely, it tastes better. So slurp that ramen as if the noodles themselves were trying to escape your maw. Stephanie Lee
Think of the bullet train as a 200mph answer to the hop on/hop off bus, one where you can zip from city to city, beer in hand, while gazing at the diverse splendor of the Japanese countryside. Hop off in Kyoto to walk to ancient shrines and stroll among geisha; feast on fresh sushi and oogle technology in Osaka; or reflect in solemnity in Hiroshima. You can hit up multiple climates and subcultures, ascend mountains or submerge yourself in a sea of trees and still be back to Tokyo Station in time for highballs with the raucous businessmen who pack the underground izakayas. Andy Kryza
Take a road trip Down Under
Australias vast landscape, laid-back attitude, and backpacker culture make it the ideal place to round up some mates, fill the trunk with gear, and head off into the unknown. From the jagged coastal cliffs and jumping kangaroos of the Great Ocean Road, to the red dirt highways connecting Alice Springs and Darwins famous sunsets, an Aussie road trip is a rite of passage for any adventurer. If youre more into wine than wildlife, the stretch from Perth to Margaret River rewards with vineyards and ocean views. Back east, drive the coast from the surf town of Byron Bay to the Whitsundays, where the Great Barrier Reef begins and the white sandy beaches never end. No matter your route, stay on the wrong side of the road and keep calm during koala crossings. Julie McNamara
Visit the Himalayas
The planets penthouse, resplendent with jaw-dropping views, instantly becomes a backdrop to any metaphysical, self-seeking exploration you wish to take. Pilgrims come from the world over to tackle Everest Base Camp in Nepal, to bow at Bhutan monasteries, and to trek the Indian foothills where the Dalai Lama is currently holed up. Exercise your chakra, immerse yourself in ancient meditative practices, and explore the inner workings of your soul. Hike through these spiritual highlands, and you will get elevated.Dan Cole

It's always a good time for soup dumplings | Cole Saladino/Thrillist
Eat your way through China
Chinahuge, diverse, ancientis a gastronomes dream. You could explore the country border to border and barely scratch its food offerings. Start in the Xinjiang (Uyghur) region in the northwest for hand-pulled noodles with lamb swimming in chili- and cumin-laced broth, a bowl so good you might never eat lo mein again. Head southeast to the Sichuan province, where you can take your tastebuds dancing with the regions signature mala spice. Then, to ensure you die happy one day, Pac-Man through Shanghais soup dumplings until youre an expert in dough thickness, meat density, and soup volume. Finish on a sumptuous Peking Duck inwhere else?its hometown, Beijing. Alicia Lu
Spend enough time in a beach paradise that you forget everything else
The ideal location for this is Oceania, hammocked under a swaying palm on the island of Yap. Or maybe unplugged and WiFi-less in a hut in Jamaica. Maybe you're hot-tubbing in your own private overwater bungalow in Bora Bora, or going on $5 a day in humble digs in Phuket or Nicaragua. However youre doing it, do it for long enough that you lose track of the days of the week, then couldnt begin to guess what your work email password ever was, and eventually forget your return flight altogether.Sam Eifling
Get above the Arctic Circle
Above this line, there will be at least one day of 24-hour sunlightand one of 24-hour darknesseach year. So bonus points if you see the midnight sun, but its a hardcore environment whenever you go, whether thats Nunavut or Lapland or Siberia. You cant so much as fly over the glaciers of Greenland without internalizing the vastness of the frozen crags. To imagine the alien ice fields melting makes climate change seem less like a future abstraction and more of a horror film were living in slow motion. That chill you feel may just save us yet.Sam Eifling
Sip coffee in one of Europes grand cafes
What would Rome be without cappuccinos or Vienna without the sacher-torte? Europes cafe culture is world-famous, and no cafe is more iconic than Les Deux Magots, where Picasso, Hemingway, and Sartre whiled away the afternoons in the heart of Saint-Germain-des-Prés. When in Rome, do not miss the opulent Antico Caffè Greco where Keats would write from a red velvet banquette. In Budapest, try Gerbeaud Café, slinging Hungarian desserts for over 160 years. And in Prague, the glittering Art Nouveau interiors of Kavárna Obecní dům will transport yourself to a different era. Jennifer Mattson
Experience a traditional spa culture
Trust us, you havent felt clean until youve been sudsed and scrubbed by an attendant at a Turkish hammam bathhouse. Succumb to being battered by birch leaves in a Russian banya, or cleanse your soul in a sweat lodge during a shaman-led temazcal ceremony in Mexico. Be prepared to mingle in your birthday suit; proper etiquette means leaving your swimmers behind in a Swedish sauna, geothermal hot tub in Iceland, and especially in a Japanese onsen, where you must abide by an intricate bathing ritual consisting of pre-washing, covering up tattoos, and keeping hair above the water. Each culture is different, so be sure to study up before you strip. Paul Jebara
Traverse the Old City of Jerusalem
Three major world religions converge in the winding narrow passageways of the Old City, full of sites of deep importance to Jews, Muslims, and Christians, including the Western Wall and the Dome of the Rock. Taste local spices or indulge in a bowl of hand-crushed hummus before climbing to the edges of the fortified stone walls. There youll see how 3.7 billion people have come to claim Israel as their spiritual home. Emily Zemler
Swim with the fishesand fin with the sharks, too
No shade to dry land excursions, but snorkeling and scuba diving offer an entirely different, no less enchanting window into the world. Get yourself scuba certified so you can explore the Tuamotu Atolls of French Polynesia, where youll ogle hundreds of grey reef sharks at Fakarava. Or Indonesias Raja Ampat, the bullseye of the Coral Triangle, whose waters are home to nearly three times as many fish species as youll find in the Caribbean. And from mid-May to September off Mexicos Isla Mujeres, youll only need a mask and snorkel to fin amongst whale sharks, the largest fish in the seas. Terry Ward
Eat a home-cooked meal in someone's home
The most memorable meal of my life was cooked by a 5-foot-tall Russian woman in Tyumen, the capital city of Siberia. After spending three weeks subsisting on gruel-like camp food deep in the Siberian forests, I sat at this womans tablethe mother of a Russian friend Id madeand happily obliged her insistence that I eat homemade dumplings enough for five men, and a bowl of fresh blackberries that was twice the size of my head. Theres no better window into the real lives of real people abroad than entering their kitchens, and nothing more humbling than to experience that kind of generous hospitality. A good thing to keep in mind while welcoming strangers in your land. Bison Messink
Fall in love withand inParis
Well always have Paris, you joke with your partner, even before youve been. So go, already. The city is an epic poem of sweeping boulevards, romantic gardens, and beautiful women drinking midday Aperol spritzes at outdoor cafes. The bookstores, the outdoor markets, the fromageries, the jazz spilling out of the barstheyre all as vibrant as youve imagined. By mid-afternoon, dapper Parisians have crowded the banks of the Seine to split 5-euro bottles of wine. Youll always have Paris because Casablanca made lore of a cliché, but in this case, the cliché endures for good reason. Eliza Dumais
Between the desertscapes of the northern Atacama and the soaring skyline of Santiago lies the capital of astrotourism. The Elqui Valley is officially recognized as an International Dark Sky Sanctuary for its pristine night sky, made all the more spectacular by the high elevation and a whopping 350 rain-free days a year. A dozen or so observatories open their facilities to the public for star-gazing tours. Just so happens this is also a major wine-growing region dotted with vineyards and artisanal pisco distilleries. Sip a pisco sour or two and youll be feeling cosmic on a whole other level. Paul Jebara
Laugh in death's stupid face
Its not that were advocating putting yourself in danger, exactly. Its just that travel can bring out a latent desire to push your boundaries. You know, the kind of thing that makes your future self shake its head at your erstwhile idiocy and unadulterated chutzpah. And who are we to advise you against such YOLO-encapsulating activities as cage diving with Great White sharks in Cape Town or mountain biking down Bolivias infamous Road of Death? Were not your mom. But for her sake, you may want to wait until after youve survived New Zealands Nevis human catapult to tell her about it.Sarah Theeboom
Build a trip around a food you really love
You have a favorite cheese or meat or dumpling or liquor or pastaso go visit its maker, and it will be like finding your own. Read up on its past, its trends, its dominant personalities. Tour the sources of its ingredients. Bask at a Trappist brewery in Belgium, traipse through Vietnams kaleidoscopic cosmos of street food, or savor the paella in Valenciaso long as youre exploring the flavors that capture your heart along with your tongue, your vacation will be a success. Food braids history with chemistry, economics with ecology, in a way that turns trips into journeys. If we are what we eat, what better way to explore than with our mouths as open as our minds?Lewis Kelly
Hit all seven continents
It sounds like a feat, but think of it this way: Unless youre reading this in the distant future on the Mars colony where youve lived since birth, youre at least one-seventh of the way there already. Sam Eifling
Book a one-way ticket abroad
Unpack your suitcase in a foreign country, take a good long look around, and settle in without a return date in sight. Try on a new day-to-day in Canada, New Zealand, or any number of expat-friendly countries. You might teach English in Guatemala,volunteer on a farm in Crete, or be a digital nomad in Bali. Stake out a permanent patch of sand in a cheap coastal paradise, or join the roving, low-cost, high-vibes backpacking circuit. Options are limitless, and they all come with fresh challenges and new perspectives. Keller Powell
Video liên quan